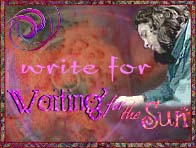 Write for Waiting For The Sun!





I am happy to receive article submissions for Waiting For The Sun.




Any subjects directly related to Jim Morrison, his life, work and influences will be considered for publication on this site.

If you can contribute writing of comparable quality to the articles which are currently featured on this site, then I would like to hear from you.

You can either email me a proposal for an article, or submit a completed article for consideration.

Send all proposals and articles to: submissions@waiting-forthe-sun.net

All work published on this site will be given the appropriate byline and will be protected by copyright notice. By submitting an article or idea to me, you are giving written permission for it to be used on Waiting For The Sun. No payment is made for articles, but you will receive a promotional link at the end of your article to any web location you choose (links to adult and x-rated sites, or sites dealing in illegal activity of any kind, will not be considered for publication).